Organise and process your dental burs effectively, efficiently and safely.
04 Oct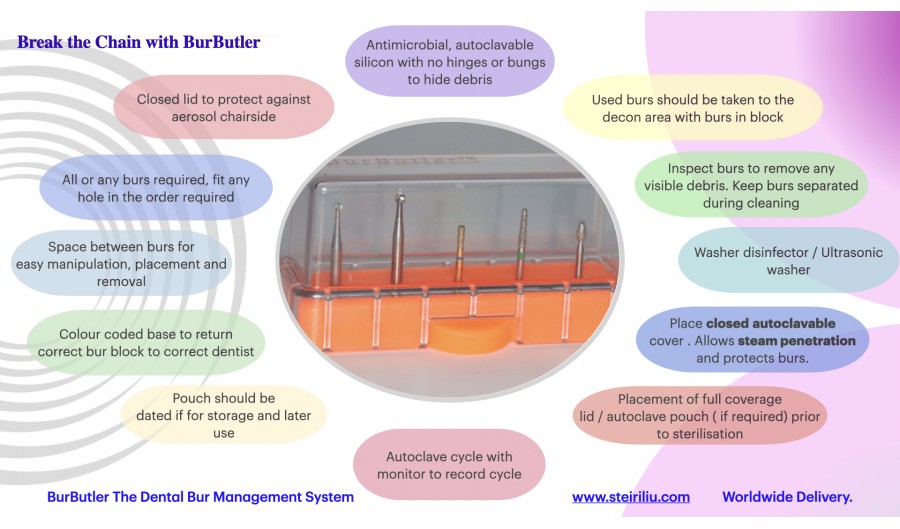 Organise and process your dental burs effectively, efficiently and safely with the BurButler.

Dental Bur Compliance: BREAK THE CHAIN with the BurButler
Your dental burs are used every day for most every restorative procedure. Using a systematic approach to organise, clean and present your burs will make life easier, safer and save time for all.
"For every minute spent organising, an hour is earned." Benjamin Franklin.

1. The dentist should be able to access the selection of burs for that procedure, that they will need for that procedure from one bur block.

2. If you need to access alternative burs during an AGP procedure, the assistant or dentist should remove PPE to open drawers, cupboards, doors and sort through packaging to find the bur required. This is so even with practices that use single use sterile burs.

All your needed burs should be prepared, as with any other instrumentation before the AGP commences.

3. Burs should be spaced adequately on the bur block to allow easy access.

This allows larger hands/fingers to access without difficulty or injury.

4. Burs should be able to be placed and removed easily.

While burs must be retained by the bur block whatever the type. The fitting should engage all burs equally.

The fitting should not perish, nor harbour inaccessible areas to irrigate.

5. The bur block should allow the mix of burs required, preferable in the order that are likely to be required.

Every dentist will have their own preference of burs for a procedure.

The ability to mix and match your friction grip and latch grip on the same block will facilitate this.

6. The bur block must be autoclavable.

Some bur stands are still used that are not autoclavable. These should be disposed of.

7. NOTE the lid also should be closed and autoclavable.

The lid of your bur block should be closed, both for sharps safety and for protection against aerosol effect within the practice, particularly chairside.

The "closed" lid should allow steam penetration for autoclavability.

Open sided metal bur blocks do not allow visual access to see the contents.

Clear lids ensure you can pick the correct set for the procedure. This prevents opening of the wrong bur block.

Open sided bur blocks do not prevent cross contamination from aerosol unless pouched.

The lid will protect the burs from contamination and aerosol once processed.

8. Colour coding of the bur block will allow you to customise the selection of burs required for each dentist or procedure.

If each dentist / clinic / surgery can arrange their procedure burs on their chosen colour bur block. 

The assistant and dentist can work to a routine and the set of burs belonging to one, can always be returned to one

9. Once used by the dentist, the burs should be inspected to remove any debris and check for worn burs that should be replaced at this time from the practice stock.

The use of a magnifier will help with this – keep one in the decon room.

10. The burs should not be touching each other during the decontamination and sterilisation process.

Loose burs should not be processed through the washer disinfector / ultrasonic in the "tea cosy".

Burs should be separate to allow full irrigation of all surfaces. This is not possible if they are touching.

Use of a suitable bur block will keep the burs separate and allow irrigation during the washer disinfector / ultrasonic washer cycle.

11. Use of a closed bur block will reduce handling risk to the team and SHARPS hazards.

12. If the bur block is to be stored for later use, the bur block should be pouched and labelled with processing date and cycle details as any other instrumentation in the practice is.

The option of "3D Deep Autoclave Pouches" should be considered. These are available as 100m rolls 75mm 100mm or 150mm wide, 

They depth of the open bag allows pouches with a smaller footprint to be used. 

These pouches are heat sealed eg

MELAseal100+




13. The bur block should have no moving parts that restrict access to irrigation and steam penetration.

Hinges and bungs create closed touching surfaces that are more difficult to clean.

Burs should not fall out of the bur block if tipped or spilt.

14. Burs should not fall out of the bur block if tipped or spilled.

15. The dentist or assistant should reduce the need to access stock burs during a procedure.

This has now been highlighted particularly with Covid during AGP procedures. 

This would entail removal of PPE to access stock to prevent cross contamination of the packaging of the stock and door / drawer handles.

BE PREPARED.

16. Loose burs should not be kept in clinical drawers.

All burs should be kept on bur blocks and / or pouched.

17. Laboratory burs in a clinic should also be treated the same way as the above if these are also used for patient care. eg Trimming of dentures, polishing of prosthesis.

18. Consider how you store your practice stock of burs.

It can be difficult to visualise all the stock of varying types, codes, sizes and grit (roughness).

You can avail of the 60 hole BurButler to organise all the practice stock.

Keeping rows of new burs, each "type" can be ordered in a block and easily found and identified.

Eg Label one block for crown preparation, another for composite burs, another for amalgam burs.

With rows of 10 of different lengths and grit size.

This allows easy stock control saving frustration and time and facilitates awareness of an imminent shortage of a particular type of bur.
Eg if only five of one type remain, a reorder of that bur may be required.