Restorative Procedure Kits Using BurButler and SS White Burs by Steiriliu
22 Feb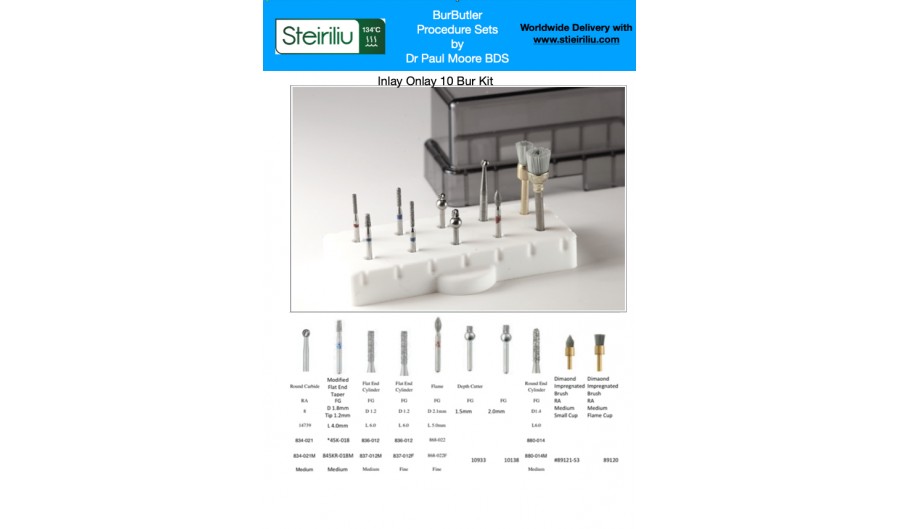 Posted By
0 Comment(s)
322 View(s)
Restorative Procedure Kits
Using BurButler and SS White Burs
by Steiriliu
This concept will allow you to set up procedure kist to suit your needs. Whether using single use files or reprocessing your burs, the BurButler allows you to mix and match your latch and friction gip files to suit your needs.
This presents an advantage even with single-use burs. If you preload your burs you choose, the packaging of the stock of burs need not be handled to access your needs during a procedure, potentially compromising cross infection protocols.
BurButler.
A medical grade silicon base with tapered fluted holes for dental burs storage and chair side presentation.
Available in varied colours to organise procedure kits systematically
The innovative BurButler allows each and any burs to snugly fit the unique hole design in any order chosen.
The clear lid allow the clinician to see the contents without lifting the lid.
The burs and spaced for safety and easy access,
Burs can be removed by fingers with a light touch.
Benefits and Features
• Selection of burs for general restorative procedures
• The BurButler has a clear lid to see the contents.
• The lid fits the silicon base snugly but can be removed one handed.
• Burs are spaced for easy manipulation.
• Burs will not fall out if the Base is tipped.
• Presented in a sealed Peel & Play pouch
• Sterilised by radiation for Single Use Only
Below is my selection of Burs for various procedures set in 5 hole and 10 hole BurButlers
Many Dentists prefer to use a 25 hole BurButler with more options.
Each dentist can choose their own selection, colour and size.
Keep a record of the re-order codes and a photograph of YOUR set up and the team will love you as much as the BurButlers!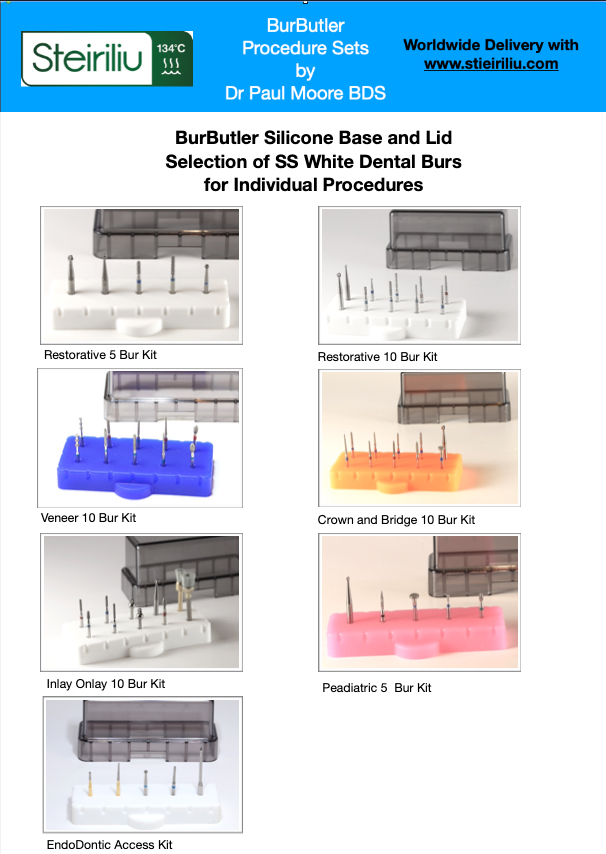 What would you choose?